ABOUT BRIAN
I am a husband, father, lawyer, teacher, coach, volunteer, and municipal politician.
I am a great believer in the power of the individual in our communities and have served on boards of numerous not-for-profit organizations locally, provincially and nationally.
I've served in municipal politics since 2014 and was elected the Mayor of Collingwood in 2018. During my time, I championed fiscal responsibility and the integrity of municipal governance striving to improve transparency and accountability. The Town of Collingwood reduced its external debt from approximately $35 million in 2015, to approximately $20 million in 2019. During that same time period, Collingwood advanced from a net deficit position of approximately $6 million in 2015, to a net surplus position of $34 million in 2019.
Before my time in politics, I practiced law for 22 years primarily focusing on civil litigation, real estate, wills and estates, and corporation law. I also taught business law ethics at the Georgian College Barrie Campus.
I was also a member of the Canadian National Rowing Team and competed at two Olympic Games, and three World Championships, winning a silver medal in 1990 as a member of the Men's Eight.
My wife and I live in Simcoe-Grey and enjoy traveling around the region exploring the outdoors and the locally grown products. We have three children.
What I Stand For
I stand for a Progressive Conservative Government that is "For the People" and pledge to be your voice at Queens Park for Government that is progressive, innovative, collaborative, and representative.
A Government that prioritizes and focuses on economic, environmental and social sustainability by:
Focusing on COVID-19 recovery and collaborating with local and regional Governments to support businesses and employees, effective vaccination distribution, education, and family health
Implementing policies and programs to revitalize our economy by supporting businesses of all sizes, creating jobs, and investing in Simcoe-Grey's entrepreneurial spirit
Implementing the Made-in-Ontario Environment Plan, protecting Simcoe-Grey's green spaces, wetlands and watersheds, investing in green programs to support electric vehicles and related infrastructure, access to public transit, and green building practices
Implementing policies and programs to keep our Simcoe-Grey communities affordable, that stimulate the development of attainable housing and protect our most vulnerable residents
Implementing policies and programs to support our Simcoe-Grey regional healthcare sector, Long Term Care facilities and the much-needed expansion of our community hospitals.
An accountable Government that measures the impacts of its policies and programs because what gets measured, gets done.
Who Made Me
This is a recent picture of me with my former Olympic coach, Boris Klavora and his wife, Betty taken at their home in Vancouver during a visit last summer. Boris was on the Yugoslavian National Rowing Team in the 1960's and a member of the Men's Eight at the 1964 Olympics in Tokyo. He was my coach at the Vancouver Rowing Club from 1985 to 1987 and my coach on the National Team in 1987 and 1988 in the Men's Coxed Four. We were a surprise 4th at the World's in 1987 in Copenhagen, just missing the podium in our first year as a crew. At the Olympics, we were eliminated in the semi-final in one of the closest races of that Olympics. There was 1.6 seconds separating all 6 boats at the finish which translates to less than 10 metres after 2,000 metres. Later, we came 3rd in the Petit Final, placing 9th overall.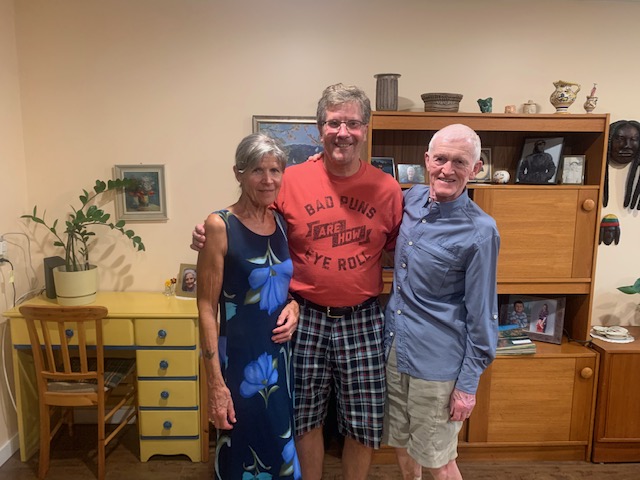 Boris was a remarkable coach and a big influence in my life. He was remarkable as a coach because his approach was open minded, progressive, and collaborative. While he was clearly in charge, we worked together coach and crew, as a unit, to determine our training regime, our support structure (including a nutritionist, massage therapist and sports psychologist, likely a first for Rowing Canada at the time) and our race preparation and race plan. He was a big influence on me because he coached the whole person (you were more than just an athlete) and we developed a strong bond away from the boathouse. Boris coached me for three years as an aspiring rower before I made the Senior National Team. During that time, I was cut at selection camp in 1985 and lost a season due to an injury that required surgery in 1986, before I finally made the team in 1987 as the oldest member of the crew. It is very unlikely I would have made the National Team if Boris was not my coach. He taught me that in the sport of rowing, team work is essential. It is a collective effort to move a boat quickly. He also taught me that as an individual, there is no substitute for hard work and each member of the crew is responsible and accountable for doing the work and pulling their weight. It seems like a simple life lesson, and since I left competitive sport it has served me well in my personal life with my family and in my professional life with my colleagues. To be part of an effective team, you have to work together for the common goal and you have to be prepared to work hard and pull your weight to achieve that goal. So thank you Boris; you are one smart life coach.
Brian's Accomplishments
Brian has a history of Getting It Done. View all of his political accomplishments and learn more about how Brian delivers results.